As usual , I was sitting down at the dining table , surfing the internet to either updating my blog or reading other interesting blog when I saw Bake Along No. 13 which was organise by Frozen Wings , Kitchen Flavours and Bake for Happy Kids . It was just the right recipe which I have wanted to bake since last week. I was just plain lazy to bring my ass to the market to get some key lime ( limau nipis ) .. Heehee .Shhhhhhhh... this is a small little secret between us yeah . I am a lazy bum.. LOl..
This little thing actually makes me drool..... Seriously .. Well I am glad that I decided to join the "clan" for this Key Lime Cupcake . Will definitely make this again and again........... Sad thing is, Ryan is back in my hometown with my mom to spend their holiday there. So I was unable to let him try this delicious little green devil .. LOL
Ingredients
1cup All Purpose Flour
3/4 Self-rising Flour
1/2cup Unsalted Butter
3/4cup Sugar ( Original recipe calls for 1 1/2 cup )
2large Eggs
2 1/2tbsp Lime juice
1tbsp Finely Grated Lime Peel
1/4 tsp Neon-Green Food Colouring ( any green of your choice will do )
3/4 Buttermilk
Frosting
1 1/2cup Icing Sugar
8 oz Cream Cheese ( room temperature )
1/2cup Unsalted Butter
1tbsp Lime juice
1/2 tsp Vanilla Extract
Method
Cupcake
Preheat oven to 177C . Line cupcake tray with cupcake liners
Beat butter and sugar till light and fluffy
In a separate bowl, whisk all purpose flour and self-rising flour till well mix
Bet in eggs , 1 at time , mixing well after each addition
Add in lime juice , finely grated lime peel and food colouring
At low speed , add in flour in 3 addition alternating with buttermilk ( start with flour and end with flour )
Spoon batter to fill 2/3 of cupcake liners
Bake for 20-25 minutes at 177C , until skewer inserted in the centre comes out clean
Remove from pan and leave it to cool on a cooling rack
For Frosting :
Beat all ingredients till smooth. Spread it on the cupcake and garnish with grated lime peel
Yippeee !!! Enjoy your yummy Key Lime Cupake !!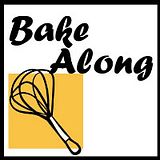 I am joining Bake Along No. 13 which was organise by
Frozen Wings
,
Kitchen Flavours
and
Bake for Happy Kids
. Hop over to their blogs to view the list of participants . Enjoy !
I am also submitting this post to
Aspiring Bakers #13: Enjoy Cupcakes ! ( November 2011 )
hosted by Min of Min's Blog