I have to say, I didn't expect this cake to be sooooo delicious . Oh my , did I just say that . LOL . When I saw the posting about this cake, I have a mix feeling about this cake. I was curious to taste this and yet I was not confident if any of us will like the taste of this cake or not.
Cake soak in 3 diff types of milk. Hmmmmmmm .... what do you think ? Interesting , doubtful , curious or let's do it ? ... Well I have always trusted my baking buddies . So I say " let's do it ". So I started searching around for some interesting recipe , when I saw Lena's post. So I decided to do the same .
Honestly , I dun mind about the extra milk soaking the cake cos it's simply delicious ( that's because I was in a rush to finish up this cake before popping it into to the fridge as I need to go fetch my girl back home ) . The verdict : Everyone love this cake. Everyone ask for a second helping except for baby Ryan. Hee... Guess he prefer his own milk than this . I think my sponge cake didn't rise as much as its suppose to be , but it's still very delicious.
I served each slice with extra dollop of DDL .... hmmm... yummy ...
Recipe ( from frozen wings , who adapted from Table for 2..or more )
Milk Mixture
600g Fresh milk
100g Dulce de Leche ( recipe for making DDL here )
115g Whipping cream
Put DDL in a heatproof bowl and stir in whipping cream. Bring fresh milk to a boil and pour over DDL and cream. Stir to melt DDL and leave to cool in the fridge.
For the Cake
4 large Eggs
133g Sugar
1/2 tsp Vanilla extract
133g Cake flour
Method:
1.Preheat oven to 180C and line the base of the pan
2.Beat eggs, sugar on high speed for about 5 mins on a stand mixer
3.Beat in vanilla and sift cake flour over eggs and fold. Pour batter into pan and bake for 30mins or until cooked.
4.Let cake cool in pan for 5 mins , remove and let cool on wire rack.
Assemble:
1. Using a cake pan, place 2 sheets of cling wrap over-lapping each other over the pan. Scrap off the top of the cake . Then place the cake into the cake pan, top side up.
2. Pour the milk mixture over the cake all around, fold cling wrap over the cake and chill overnight.
3. Next day, remove the cake from fridge and unwrap. Turn the cake over to a plate and turn it up again. Whip some cream and spread it on top on the cake.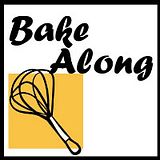 I am submitting post to Bake Along #43 : Tres Leches Cake hosted by
Lena of frozen wings
,
Joyce of kitchen flavours
and
Zoe of Bake for Happy Kids