Phewwww........... I remember it was only days away , and we are back to Bake Along again. This round , the theme will be baking turnovers . Oh my , they are so kind ya know. I am simply in love with puff pastry . Puff pastry is simply delicious to go with any fillings. I have tried so many varieties . Savory, spicy , sweet filling I have try most combination . Since I was feeling a bit adventurous this time, I was thinking maybe I can create my own version of pull pork to go with it .
I have to admit that I have never attempt to try any pull pork recipe before. I was browsing through some pull pork recipe online . Sigh..... all looks so delicious. Sadly , it's either I can only get 1 or 2 of the ingredients listed or none. My instinct told me to " Use whatever you can find in your fridge and kitchen ".. LOL... So I took out the smallest slow cooker I have and dump everything inside to cook for 12 hours .
The smells of cooking pull pork is simply " Horrid " , I have to warn you, but I assure you the end results is simply so yummy you wouldn't mind the cooking smell at all .
Caramelized Onion Pull Pork Turnover
Ingredients
For the Pull Pork :
200g Pork Loin ( or any pork you have )
1 Onion ( quartered )
2 cloves Garlic ( peel )
20g Gula Melaka ( adjust according to own preference )
2 sprigs Fresh Rosemary / 1/2 tbsp dried rosemary ( chop )
2 sprigs Fresh Taragon ( chop )
1/3 cup White wine
1cup Chicken stock
1tsp Ground Cinnamon
Method
1/ Place pork into slow cooker follow by other ingredients . Cook on low for 8-10 hours
2/ Dish up pork and shred with 2 works. Discard onion and garlic .
3/ Return shredded pork into slow cooker and cook for another hour .
For Turnover :
Store bought frozen puff pastry
Pull Pork
BBQ sauce
Cheese ( can be any cheese you have at home )
Caramelize Onion ( recipe from here )
Egg Wash
Method
1/ Preheat oven at 220C . Line and grease baking pan
2/ Place 1 tsp of pull pork in the middle of a square puff pastry , add some BBQ sauce , caramelized onion and cheese .
3/ Brush sides of the puff pastry with egg wash . Fold over to form a triangle and seal the side of the puff pastry with a fork. Poke a few holes on the pastry with fork . Brush top with egg wash .
4/ Bake in preheated oven for 10 minutes on the lower third rack . Reduce oven temperature to 190C move the turnover to the top rack and bake for another 12-15 minutes
5/ Cool the turnovers slightly before serving with your favorite cup of black coffee . Enjoy
Everyone love these turnovers. None was left for me :( ... LOL.. Even the small guy at home love this .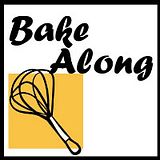 I am submitting post to Bake Along #41 : Turnovers hosted by Lena of frozen wings , Joyce of kitchen flavours and Zoe of Bake for Happy Kids