Guess I owe everyone an apology . Heehee.... Well here we go , this will be my first post of the year 2013. I am happy to be back on track again baking along with my friends . Feels like its been a long time since I ever written anything this long . My apologies to all for being away , I shall be back blogging again in no time.
Life - birth , old and death ... this really means a lot to me now. My old age dog of 10 years left us on the 5th of March 2013 . It was a very sad day to all of us. I might not be the best mom, but he has been my best pet for the past 10 years. R.I.P my little darling ......
Banana has always been one my favourite food . I simply love bananas. Same goes to my kids. Both my boys love bananas... give them anything bananas and they will love it. I have to admit that there might be some mistake while mixing the ingredient which has cause my bread to rise not as high, overall results- we love this bread. Well, do you mind me winding ? Just a little bit ? ermmm... ya maybe not this time ya. LOL
BANANA NUT BREAD
Recipe ( from The Williams Sonoma Baking Book )
95gm Unsalted butter , softened
170gm Sugar ( original recipe calls for 250g )
280gm Bananas ( mash and set aside )
3 large eggs, lightly beaten
1/2cup Buttermilk
2cups Plain flour
1tsp Baking soda
1tsp Baking powder
1tsp Ground nutmeg
1/2tsp Salt
90g Walnuts, pecans or hazelnuts ( coarsely chop/ I use walnut )
Method:
1.Preheat oven to 180C. Grease and lightly flour 9x5 inch loaf pan.
2.In a stand mixer fitted with paddle attachment, beat the butter and sugar on medium speed until creamy.Add mashed bananas and eggs and beat until smooth. Add the buttermilk and beat until just combined.
3. In a bowl, stir together the flour, baking soda, baking powder, nutmeg, salt and nuts. Add the flour mixture to the banana mixture and beat just until combined. The batter should be slightly lumpy . Scrape down the sides of the bowl.
4.Pour the batter into the prepared pan. It should be no more than two thirds full. Bake until the top is dark golden brown and dry to the touch, about 55-60minutes ( this is the part I knew something went wrong when I was mixing . Mine took 1 1/2 hours to be done ) . A cake tester inserted into the center of the cake should come out clean. Let the bread cool in the pan for 5 minutes, then turn it out onto a wire rack and let cool completely.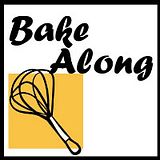 I am submitting post to Bake Along #40 : Banana Nut Bread hosted by Lena of frozen wings , Joyce of kitchen flavours and Zoe of Bake for Happy Kids