Ok, guess its really time for me to update my blog just a little more... LOL . So sorry for being away for so long. Not gonna be long winding about my job again this time, guess everyone already knows....Heehee...It's time for our Bake Along again. This time around , we are gonna bake Cream Puff . I gotta say I was lucky to succeed on my first attempt . The later was history .... gosh , I just couldn't stop baking cream puff ever since.
I knew I didn't do a good job this time around , brain jam for that split second as I was not able to capture the right angle . I keep playing around with the cream puff, arranging it on a plate , a box , a fork , well nothing really impress me . Guess my brain kind of need a break too yeah . Since I have some fresh rosemary in my garden , I have decided to make good use of it .Heehee....... fresh herbs in my garden always makes me feel good to bake ..... the aroma of the fresh herbs goodies baking in my oven makes me feels relaxing ......
If you have follow my blog all along, you will know how much I love lemon . I have opted to fill the cream puff with Lemon Rosemary Cream with a dollop of Lemon Curd in the middle. Yum yum.........
Please kindly hop over to
Quay Po Cook's blogspot
for the recipe . As usual , I am kind of in a rush to finish up everything . Again , I would like to apologize for being MIA . I promise to try to post more recipe as soon as time permits .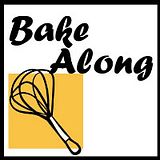 I am submitting post to Bake Along #33 : Creme Puff hosted by
Lena of frozen wings
,
Joyce of kitchen flavours
and
Zoe of Bake for Happy Kids